Learn how SONITROL was able to secure a high-value jewelry store with TotalGaurd™ This installation was critical in order to meet the needs of their insurance provider. TotalGaurd™ allowed them to effectively and efficiently arm their store with multiple forms of intrusion detection as well as some other benefits. This system is equipped with built-in impact-activated audio detection, verified video intrusion and surveillance, motion and glass break detection, arm/disarm and live view with the SONITROL Mobile App, and is backed by a $15,000 Performance Warranty.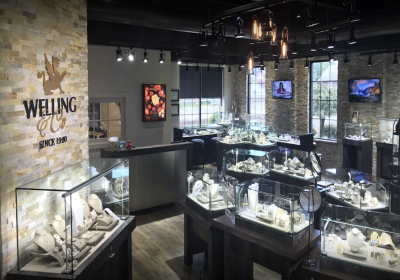 The Customer
Welling & Co Jewelers - Loveland, OH
For over 95 years, Welling & Co. Jewelers has become one of West Chester, Ohio's most trusted names in the industry. After years of building a legacy and serving generations, they are currently opening a second location in Loveland, OH – a new, 950 sqft. jewelry store showroom encompassed with glass. The jewelry industry is no stranger of break-ins and criminals are becoming more sophisticated by using more unconventional means of entry. Welling & Co. needed a security company they can trust that will protect their high-valuable assets and meet the needs of their insurance provider.
 
Challenge
As many in the jewelry industry face, insurance providers have strict guidelines to ensure proper security measures are being enforced in order to cover expenses. With this in mind, Welling & Co. Jewelers needed a security company they trusted, that met their insurance provider's guidelines, included an easy-to-use mobile app and video surveillance, and can ensure catching break-ins even when it comes to unconventional means of entry.
"We are tired of using two different apps and systems and all the upkeep that goes along with it," says Daniel Welling, owner of Welling & Co. Jewelers in Loveland, OH.
"We want simplicity and to make sure we are on top of our game with technology. This is a small retail area in the center of our historical district – however, we have guidelines within our industry that we must follow, including needing two forms of communication and safe protection."
The customer was also worried that the insurance company wouldn't recognize SONITROL's proposed solution as a "traditional security system" and was frightened hearing that criminals have been cutting through phone lines to disarm systems and coming through walls to enter businesses.
Solution
After educating them on SONITROL's verified response, SONITROL of SW Ohio consultants proposed the solution of TotalGuard™ – SONITROL's affordable, all-in-one, verified audio and video intrusion detection system. The plan consisted of 3 TotalGuard™ devices with cellular backup, a hold-up button, and motion detection on their safe for full intrusion and theft protection. TotalGuard™ was the best solution to fit Welling & Co.'s needs due to the size of the business and the nature of the product. TotalGuard™ delivers full volumetric and video intrusion coverage, is managed through the easy-to-use SONITROL Mobile App, and is backed by a $15,000 Performance Warranty. The cellular backup was added to the proposal in case their WIFI was to go down, giving them peace of mind knowing their system will always be running.
"The insurance company was impressed by how SONITROL was able to meet their guidelines and put us down for future recommendations for other jewelers in the area," says Alison Shiver with SONITROL SW Ohio. Since the installation of SONITROL, Welling & Co. Jewelers wants to upgrade their original store in West Chester to the SONITROL system because of the simplicity and verified technology. "I just received a new iPhone and was worried about disarming my system on my way to work. I was shocked by the ease of downloading the app and my keypad and cameras came right up," Daniel Welling said. 
Get a Free Assessment
Whether you're starting from scratch or updating an existing system, get started with SONITROL today for cutting-edge security, when and where you need it most.