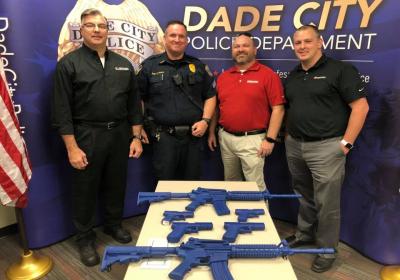 DADE CITY, FL – Sonitrol, a verified electronic security company, donated several training weapons to the Dade City Police Department in Dade City, Florida. The training weapons will be used for the next new hire class taking place in March. 
"The training weapons donated will be used to train new hires on fire arms, beyond their basic police training," says newly appointed Lieutenant William Rowe of Dade City Police Department. "The main use will be training for building searches and how to quickly draw a fire arm from its holster."
Sonitrol and law enforcement have been supporting each other for over 55 years. With over 178,000 criminal apprehensions since 1977, law enforcement truly relies on the Sonitrol Verified Electronic Security businesses to help them get criminals off the streets. In addition to donating training weapons, Sonitrol also shows appreciation to law enforcement by donating K-9's, participating in national Law Enforcement Appreciation Day, and assists in lunch & education classes across the country.
"For more than 50 years, Sonitrol has been a proud supporter of the law enforcement community.  Our partnership plays a vast role in the success of the Sonitrol apprehension program", says Julie Beach, Vice President of Sonitrol and Dealer Sales, "This donation was just a small token of our appreciation for all they do to help keep our communities and customers safe."
For more information on Sonitrol, please call 1-888-SONITROL, or visit www.sonitrol.com.
About Sonitrol:
Sonitrol is a unit of Stanley Black & Decker's Security Division, with a network of 83 franchises and 43 corporate offices covering the United States and Canada. Sonitrol is the industry leader in verified electronic security and provides customers with a single source of integrated security solutions for intrusion, video, access and fire. Sonitrol's ability to verify intrusion, through patented technologies, in real-time offers unrivaled credibility with law enforcement. Sonitrol provides for some of the fastest police response times, lowest false alarm rates and the best apprehension record in the security industry.