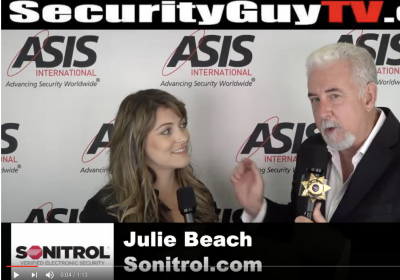 Sonitrol exhibited at the 2017 ASIS International Security Expo in Dallas, TX September 26-28th. Sonitrol's pod displayed integrated security solutions such as verified audio, video, access control and fire, along with emphasis on the newest release of the Multi-Sensor device containing Glass Break Detection.
Throughout the show, Sonitrol engaged with prospects, customers, colleagues, peers and keynote speaker events from George W. Bush and Mark Cuban. Also, ASIS attendees really enjoyed Sonitrol's raffle giveaways at the pod. The raffle tickets were placed in several Sonitrol Audio Sensor cases that also gave a descriptor of our Audio Verification. This was a great way to get the attendees involved in our raffle while putting Sonitrol product in their hand. A big congratulations to our winners!
Another major highlight was Julie Beach, Sonitrol's Vice President of Sales & Marketing, being interviewed by the Security Guy where she highlighted the Sonitrol story and number of apprehensions. "Everyone at Sonitrol is passionate about our story so we thank Chuck Harold, the Security Guy, for allowing us to share.  We have been securing our world for more than 50 years leveraging technology to verify alarms. This technology allows us to give our customers faster police response and less false alarms, but it also increases responding officer safety by allowing them to know what to expect when they arrive on site during an active crime," says Julie Beach. You can watch her interview here.  
Sonitrol prides itself in being the leader in verified integrated security, which significantly helps increase police response time, apprehend more criminals, minimize false alarms and reduce risk. Sonitrol has received over 177,461 documented apprehensions since 1977.