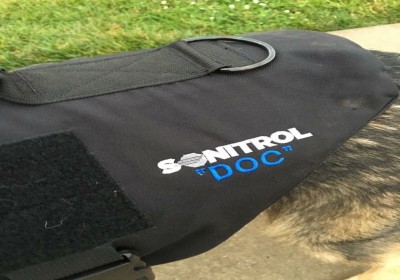 In 1969, a successful dentist named Dr. William Standring (Doc) opened the Sonitrol of Evansville, Indiana franchise.  Sadly, Doc passed away in 2015, but the Sonitrol of Evansville team found a creative way to honor his legacy. This past June, Sonitrol of Evansville made a generous donation of $8,700 to the Evansville Police Department for a new K9 officer. In memory of Doc, the K9 was named K9 Officer Doc as a way of recognizing Doc's passion for helping Police apprehend criminals using audio verified alarms. 
Last month K9 Officer Doc made his first Sonitrol apprehension of two criminals with the help of a Sonitrol audio verified alarm, and now holds a special place in the hearts of many in the Evansville community. Congratulations K9 Officer Doc on your apprehension and thank you for helping to keep the community of Evansville safe!
And thank you to the other officers who helped K9 Officer Doc with the apprehension.
Officer Jonathan Oakley
Officer Cory Little
Officer John Montgomery
Officer James Delano
Officer Marty Harrington
Verified alarms help increase Officer safety and assist in apprehensions by allowing our operators to hear what is happening at a location and communicate the information to police.  At Sonitrol, we support law enforcement and appreciate all they do for our communities!
November 28, 2016
Author: Julie Beach – Vice President of Sales and Marketing, Sonitrol Brand
Contributor: Dawn Lara – Customer Service Specialist, Sonitrol of Evansville -